I have taught literally thousands of people how to build a better sand castle... but I always felt bad when the lesson ended and I had to gather up my carving tools and ride off into the sunset.

That's why I figured out a great way to make a dandy set of sand castle carving tools using plastic eating utensils. -- so I could always leave a few tools behind. (Of course, metal cuts cleaner, but some parents would rather not have their kids playing with sharp objects.)

Break off the tip of the knife to create a basic shaping tool that also cuts square windows or doors. Alter a fork (as shown) to make a (crude but functional) column/brick tool. Use spoons or melon ballers for scalloped edges or arched doorways and windows. Use the handle of the spoon to make skinny windows.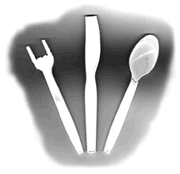 the "better-than-nothing" set of sandsculpting tools -- ask nicely at McDonalds and they will give you a set!